The good news is that getting a supra no longer requires taking a flight to the Caucasus. Five Georgian restaurants have opened in New York City alone in the previous three years. Previously exclusively known to the most knowledgeable sommeliers, Georgia's distinctive orange wine is suddenly appearing on wine lists across the nation (some are even dubbing it the new rosé). The Georgian Feast, by Darra Goldstein, which has just been updated in its second edition, is an unparalleled, encyclopedic cookbook for do-it-yourselfers.
Georgian dishes are distinguished by their diversity. Diversity is the result of a difficult and long history.
We present to you 10 traditional Georgian dishes that you must try if you come to Georgia to enjoy incredibly impressive gastronomic impressions and tastes. Over the years, Georgians have lived under the dominion of Greeks, Romans, Iranians, Arabs, Byzantines, Mongolians, Ottomans, and Russians. They all carried their food and ingredients with them to Georgia. Georgia was able to build a distinctive character for Georgian cuisine by combining all the food products and ingredients.
1. Khinkali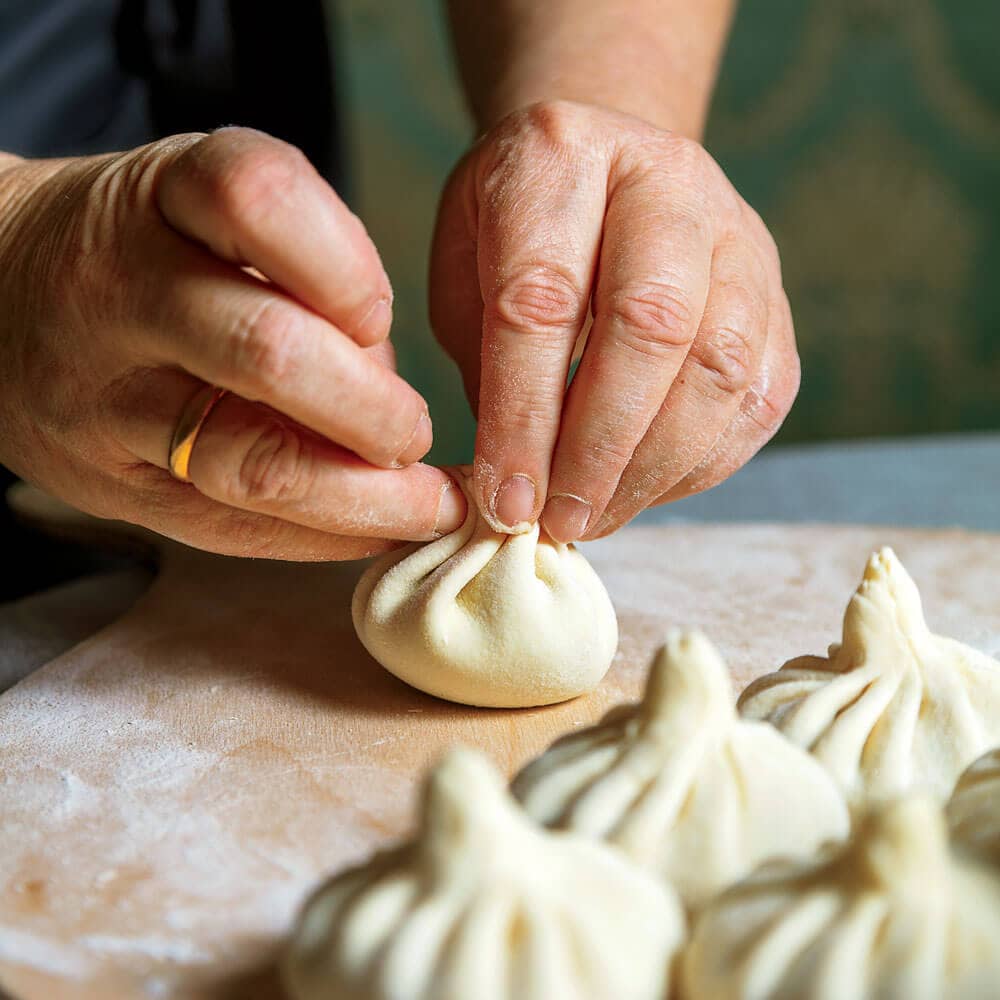 The Georgian dish known as khinkali is regarded as one of the country's national meals. The dumplings are customarily knotted at the top after being filled with meat and spices (mushrooms, potatoes, and cheese can be substituted for the meat). The fillings are impacted by regional variances, and each region of Georgia has its own unique flavor. For instance, lamb is the most common filler in mountainous areas.
The most popular type (frequently offered in Georgian restaurants) is a combination of pork and beef throughout the rest of the state of Georgia.
2. Khachapuri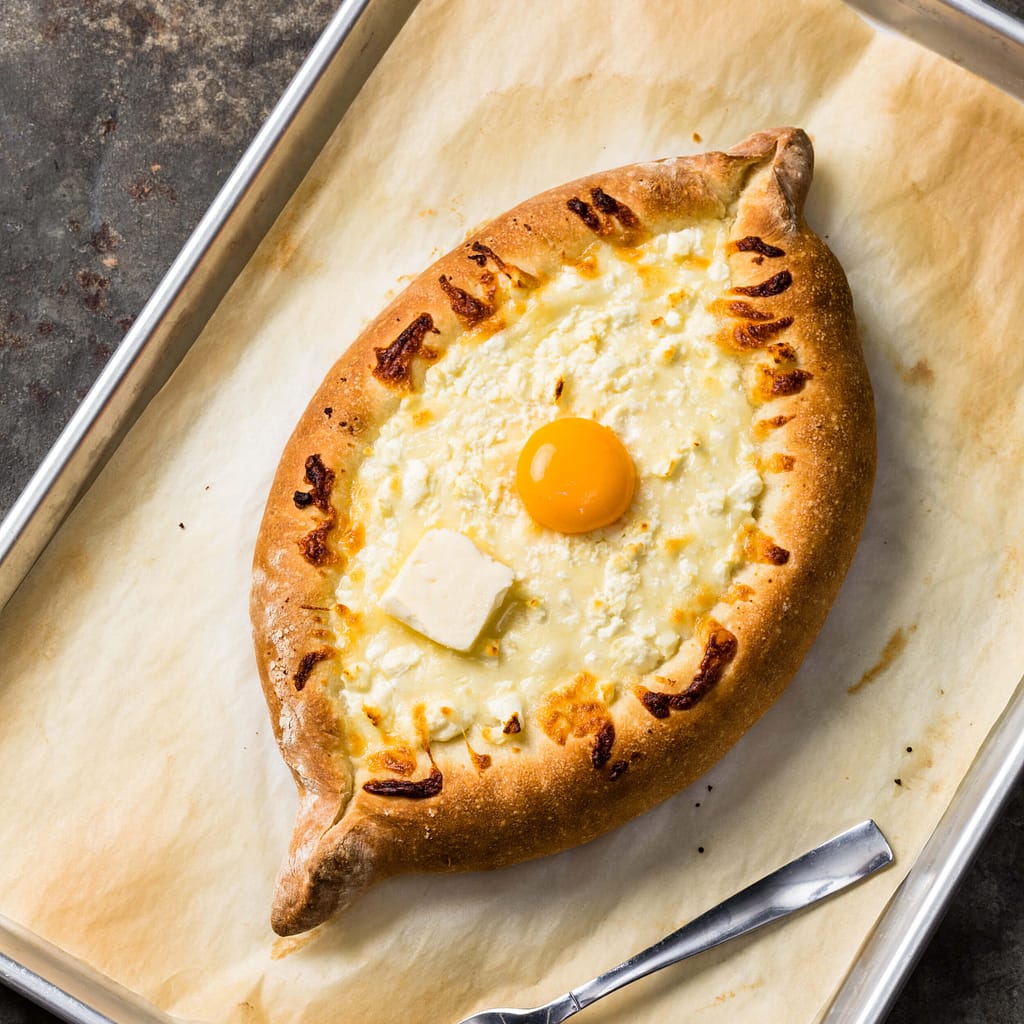 The most well-known dish in Georgia is khachapuri. Traditional toppings for the pastry include melted cheese, eggs, and butter. Khachapuri comes in a variety of forms, but it is typically filled with Imeretian or Sulguni cheese from Georgia. Three of the most popular types are the circular-shaped Imeretian khachapuri, the open-faced Adjarian khachapuri with butter and a raw egg on top, and the circular-shaped Megrelian khachapuri with melted cheese on top.
3. Satsivi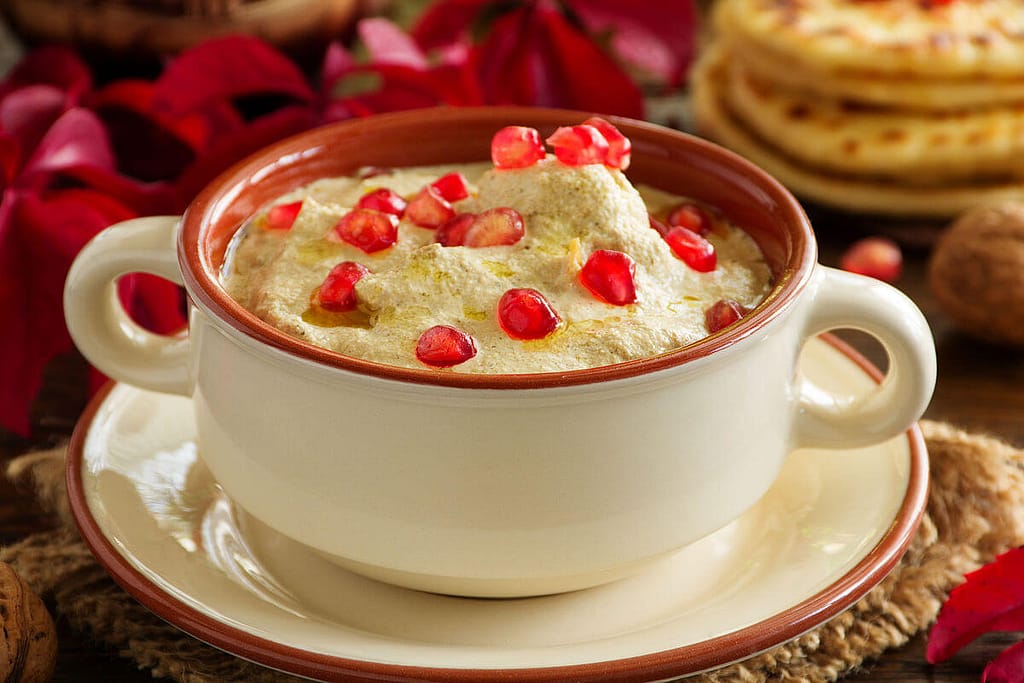 A thick nut paste is called sativi. Typically, it contains hot peppers, vinegar, garlic, coriander, and cinnamon. Typically, satsivi is offered as a side dish with meat entrees. It can also be eaten with boiled eggs, alongside seafood, or with vegetable dishes.
4. Mtsvadi
Meat that has been impaled on a stick and then grilled over an open flame is referred as as mtsvadi in Georgia. In the area, there are many variations on this topic. Beef or lamb, chopped into bits and threaded onto a skewer, either by itself or in alternation with slices of vegetables, is the favored protein choice here. To be sure, mtsvadi are anything but bland, especially when served with tkemali, the sour plum sauce that Georgians put on everything from fried chicken to potatoes.
5. Pkhali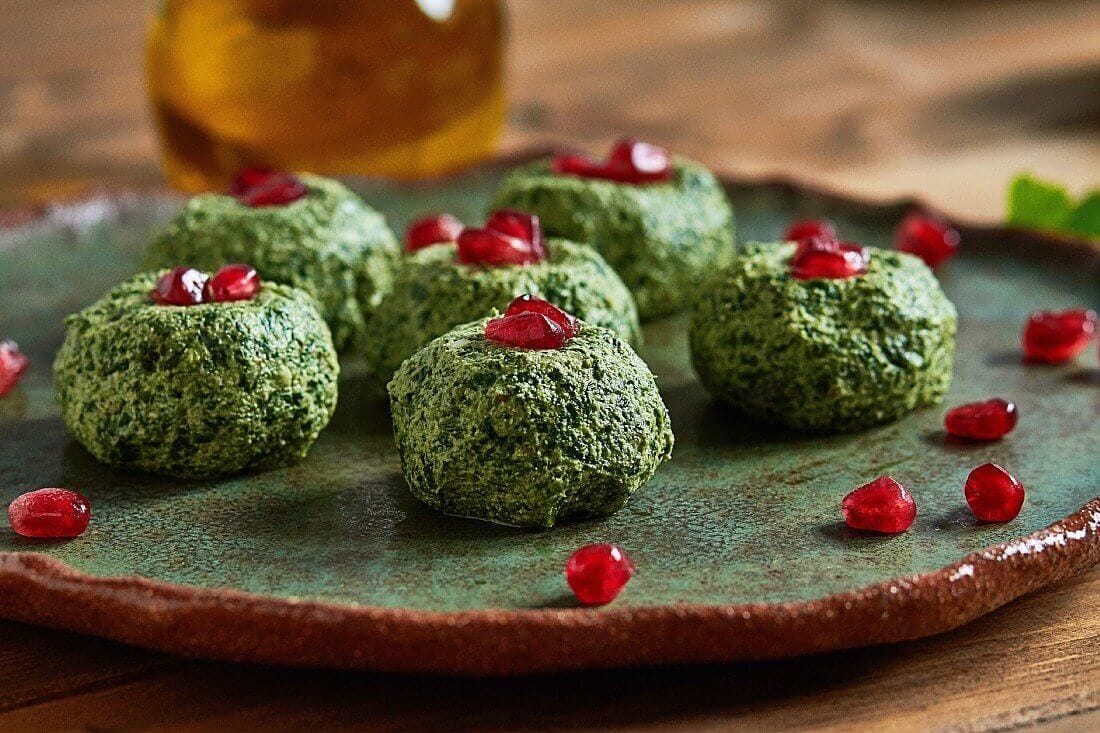 Using whatever vegetables are available (beets, carrots, and spinach are frequently used), pkhali, a family of salads that might be better referred to as vegetable pâtés, are prepared and served over bread. The technique is also totally reliable: Simply cook your chosen vegetables, purée them, then add some lemon juice, chopped garlic, cilantro, and ground walnuts for flavor. Cooks in Georgia frequently prepare different varieties of pkhali, plate them side by side, and top them with pomegranate seeds.
6. Kubdari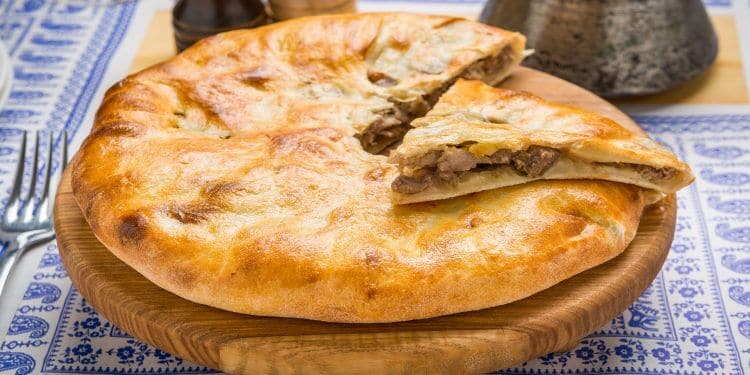 The spice mixture of cumin, dill, coriander, blue fenugreek, red pepper, onions, garlic, and salt is used to flavor the bread known as kubdari, which is typically filled with beef, pig, or a combination of the two. Flour, water, yeast, sugar, salt, and eggs make up the dough. It's interesting to note that this savory pie calls for sliced, not minced, beef. Svaneti, one of Georgia's most stunning alpine regions and winter resorts, is where Kubdari is from.
7. Badrijani Nigvzit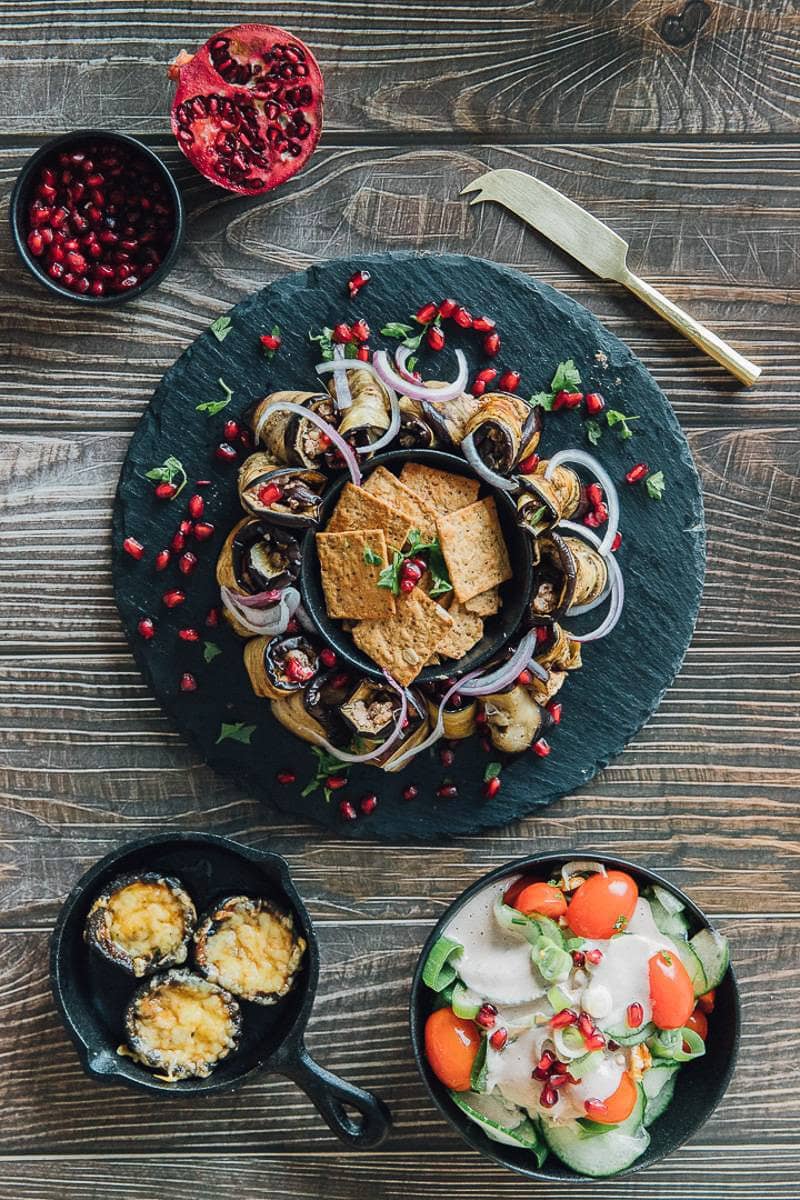 Strips of roasted eggplant (badrijan), served flat, with walnut paste on top. One of the nicest dishes is this sweet and savory one!
8. Churchkhela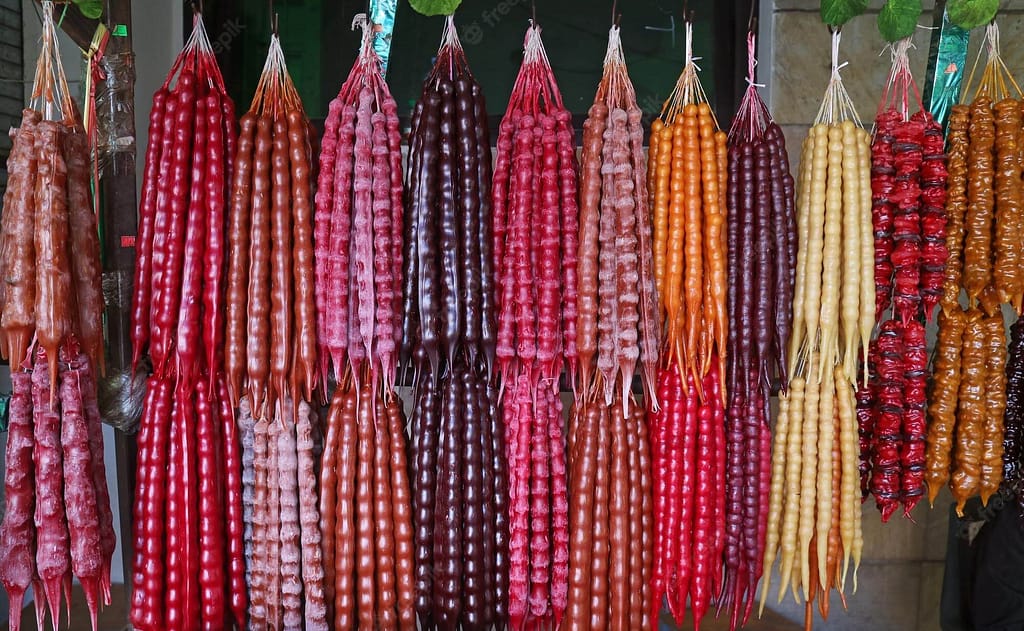 The lumpy, vibrant confections known as churchkhela that are displayed in storefront windows are arguably the most attractive Georgian dessert. It takes patience and practice to make churchkhela: It is necessary to repeatedly pour concentrated grape juice (leftover from the annual wine harvest) over strands of walnuts. Each layer is allowed to cure until the nuts are covered in a chewy, waxy coating. Churchkhela, which are rich in protein and sugar, have even fought alongside the Georgian army, who relied on them for shelf-stable food. Churchkhela is now increasingly frequently served at home with postprandials and coffee.
9. Adjika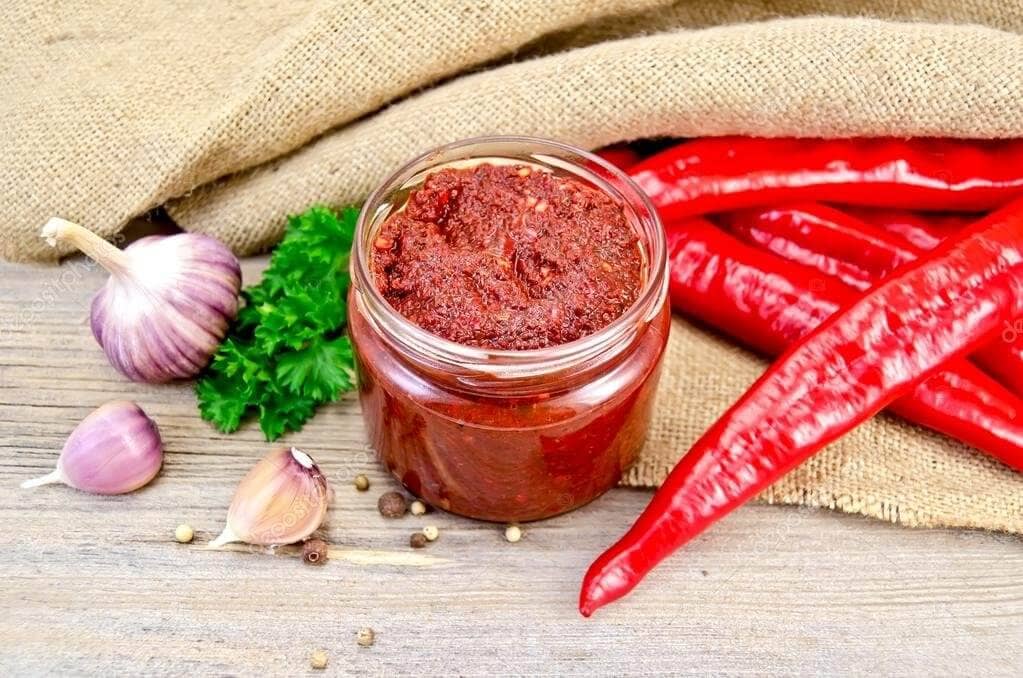 Red peppers, garlic, salt, and several spices are used to make the hot Georgian-Abkhazian condiment known as ajika (or adjika). It can be used as a seasoning ingredient to improve various Georgian foods, including grilled meat, fish, soup, vegetables, and salad. It can also be eaten fresh as a dip. Although it can also be made with unripe peppers, ajika is primarily made with sun-dried red peppers. The ajika is then green rather than the more typical red.
10. Tkemali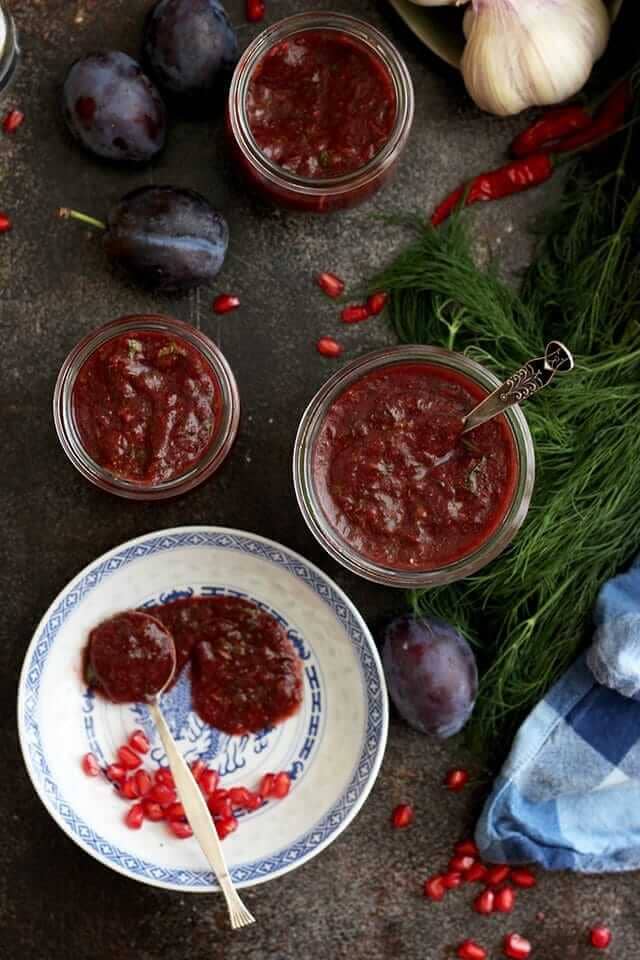 A excellent healthier alternative for ketchup or cranberry sauce is tkemali, a tasty and nutrient-rich Georgian plum sauce. Use this vibrant, sweet-sour condiment on nearly everything, including grilled food, roasted vegetables, burgers, potato wedges, any type of protein, salad dressings, bread spreads, and a lot more. made primarily from cherry plums, occasionally with alucha or other plum species. Plums come in both red and green variants. The sauce's flavor might vary, but it typically has a sharp, sour flavor.