Kovryzhenko is getting ready to create a neo-bistro-style restaurant in London that will employ Ukrainian refugees. Kovryzhenko has previously managed restaurants in South Korea, Georgia, and Ukraine.
Later this month, he and his business partner Olga Tsybytovska will open Mriya in London's upscale Chelsea district.
The couple had traveled from Kyiv to the UK capital for an event at the Ukrainian Embassy when Russia invaded their country in February. Since then, they have lived in the city.
"When I was closing the door of my apartment, I thought that I would be back in 10 days," Tsybytovska, who previously worked in restaurant marketing, tells, "But life is so unpredictable."
"I want the people who come here to feel like I do when I'm in a [food] market in other countries," explains Kovryzhenko, a leading figure in the slow food movement. "I want them to discover something new — a new taste. I want them to fall in love with Ukrainian food."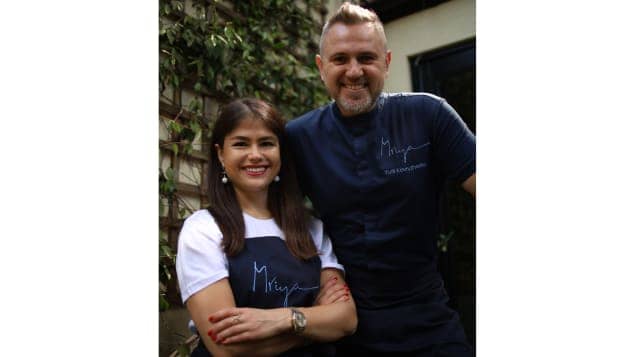 To give guests some recognizable flavors, Kovryzhenko uses regional products rather than importing food from Ukraine.
When Mriya opens, he will be serving Ukrainian food made using British ingredients that has been "touched" by influences from other nations.
Kovryzhenko says that British cuisine shares many characteristics with Ukrainian cuisine, including a lack of "aggressive flavors" and a fondness for pork, dill, and horseradish.
"The taste and the flavor are very similar," he says. "But at the same time, the [cooking] techniques are totally different. So I think it will be very interesting."
About 25 dishes will make the main menu, and there will also be a tasting menu, infused vodka, and wine matching options.
The name Mriya, which in Ukrainian means "dream," was chosen, according to Kovryzhenko and Tsybytovska, for a variety of reasons.
It not only symbolizes their shared desire to elevate Ukrainian cuisine on a global stage, but it was also the name of the Antonov An-225 Mriya, the largest jet plane in the world, which Ukrainian officials said was destroyed during the invasion.
"It [the aircraft] means a lot to Ukrainians," says Tsybytovska. "It shows how talented Ukrainian people can be."
Of course, Mriya also reflects the basic desire for peace and the return to normalcy that they and all Ukrainians feel.
"Many Ukrainian families are now living apart in different parts of the world," says Tsybytovska. "And they dream of coming back home and sleeping under a safe sky. Of getting their houses back, restoring the country, and to come back to a previous life."
The couple intends to use a part of the downstairs space as a social hub on Fridays and Saturdays in the hopes that the restaurant will serve as a gathering place for Ukrainians and other refugees in London.
Mriya will showcase Ukrainian artists' and designers' furniture in addition to traditional cuisine.
"We will give the space a Ukrainian touch and fill it with Ukrainian energy as much as we can," adds Tsybytovska.
Both are really enthusiastic about displaying their native cuisine in a gastronomic center like London and believe that Ukraine has the potential to become a top culinary vacation destination.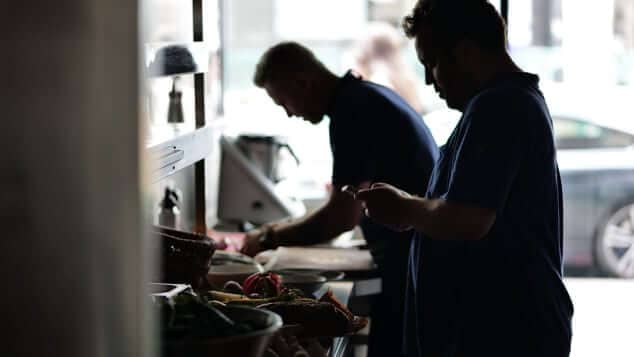 In fact, Kovryzhenko plans to eventually host Ukrainian cooking workshops at the location, which is close to the Ukrainian Embassy.
"I want to make this place a gastronomic embassy of Ukraine," he says. "The food embassy of Ukraine in the UK."
Since posting job openings on social media, they have received a flood of applications from desperate Ukrainian migrants in London.
It's proving to be a difficult procedure because many of the people who have answered don't speak much English and some of them are still waiting for their formal documents to arrive.
"It's very sad to speak to those people," says Tsybytovska. "Because some of them are teachers, some of them are doctors and dentists, but they don't speak English and their degrees are not recognized here [in the UK]."
The couple says that they would continue to use displaced Ukrainians to staff the restaurant despite these challenges.
The truth of what is happening back home is never far from their thoughts, despite the fact that Mriya is proving to be a helpful diversion.
The couple hopes to return to Ukraine when it is safe to do so and perhaps even start another Mriya there, but they admit they have learnt not to make too many plans in advance.
For the time being, they are concentrating all of their efforts on the new restaurant, which is set to open on August 2 and are eager to serve their first customers.
"We want to create something really, really new," says Tsybytovska. "It has roots in our culture, but for locals it will be something new for sure."
Mriya, 275 Old Brompton Road, London SW5 9JA